Need an audio ad? With AudioGO you can request to have professionally recorded music and podcast ads made for you by following these easy steps:
1. Log into your AudioGO account and create your campaign
2. Click on the Request ad button from the "Create your ad" section
3. Submit a script and any additional information regarding your request. Make sure to click the box that reads 'also create a podcast friendly ad for me' if you wish to have podcast ad recorded as well.

4. Once you check that box and submit the form, in less than 24 hours you'll receive two versions of your ad: one with your requested background track (for music streams) and another without it (for podcast streams). You'll be able to preview both as usual.
But if you don't check that box, you'll only receive a music ad. And if you just want a podcast ad, you'll have the option to remove the music ad from your campaign once both are delivered.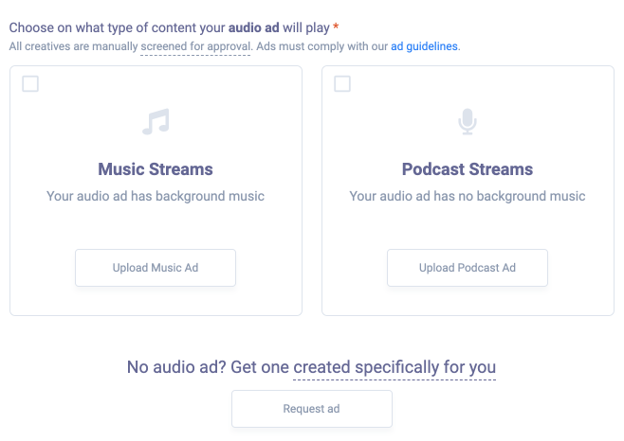 Note: We also create Spanish language ads. However, you will need to provide the script in Spanish.