It's your lucky day! Have a promo code that you'd like to apply to your audio campaign? Then just follow these quick steps to redeem it:
Log in to your Account
Navigate to your Billing Details Page
Click on Add Coupon Code
Enter your Coupon Code and click Apply
You should see a success message and your advertising credit balance should update accordingly. Your next payment will deduct the amount from your advertising credit first, then deduct the remaining amount from your credit card.
If you don't already have an AudioGO account, you can create one for free here. It only takes a couple of minutes and you'll embrace the world of audio advertising.
To visualize the steps outlined above, you can check these screenshots from the AudioGO app.
Once you logged in, navigate to the billing details from top right menu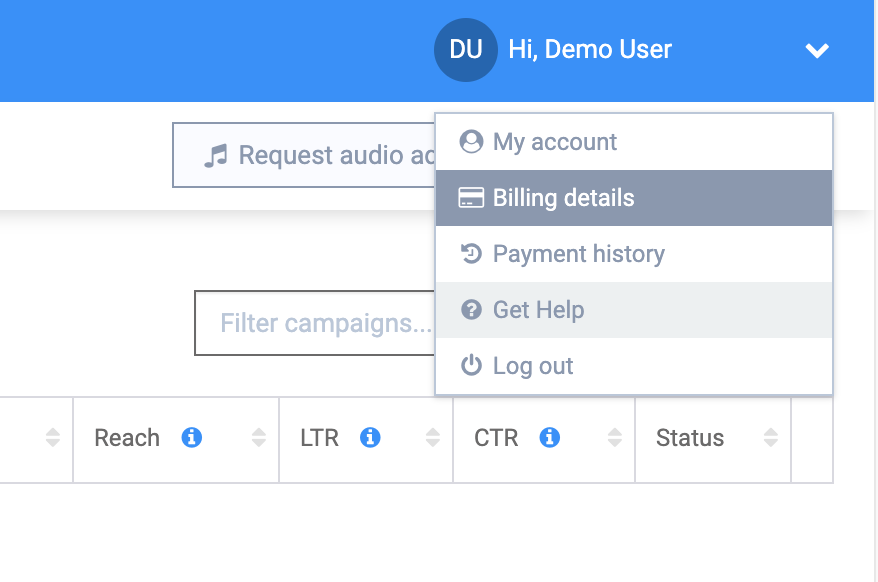 On the billing page, click to add a coupon code

Enter your coupon code and click "Apply"

All done! Your Advertising credit should update to the left

I don't see the "Add Coupon Code" Button as I navigate to "Billing Details"
With AudioGO, coupon codes can only be redeemed by users that have an active payment method saved to their account. If you don't see the option to redeem a coupon, please add a valid payment method first. Once you add your payment method, redeeming a coupon code becomes available.

When adding my coupon code I get an error
If adding your coupon code results in an error, please check the code and try again. If the error persists, make sure the coupon is valid and that it has not expired.