Product
Related articles:
Who says you have to be a designer to create beautiful banners for your ad campaigns? Because thanks to our new integration with Canva - a leading online graphic design platform - anyone can now design professional-looking banner ads on AudioGO!
How does Canva work with AudioGO
We always strive to keep things nice and simple here at AudioGO - and our customers love that. We also understand the importance of clicks and display ads too, so we're giving you all an easy option to create banners to accompany your audio ads straight from the AudioGO app.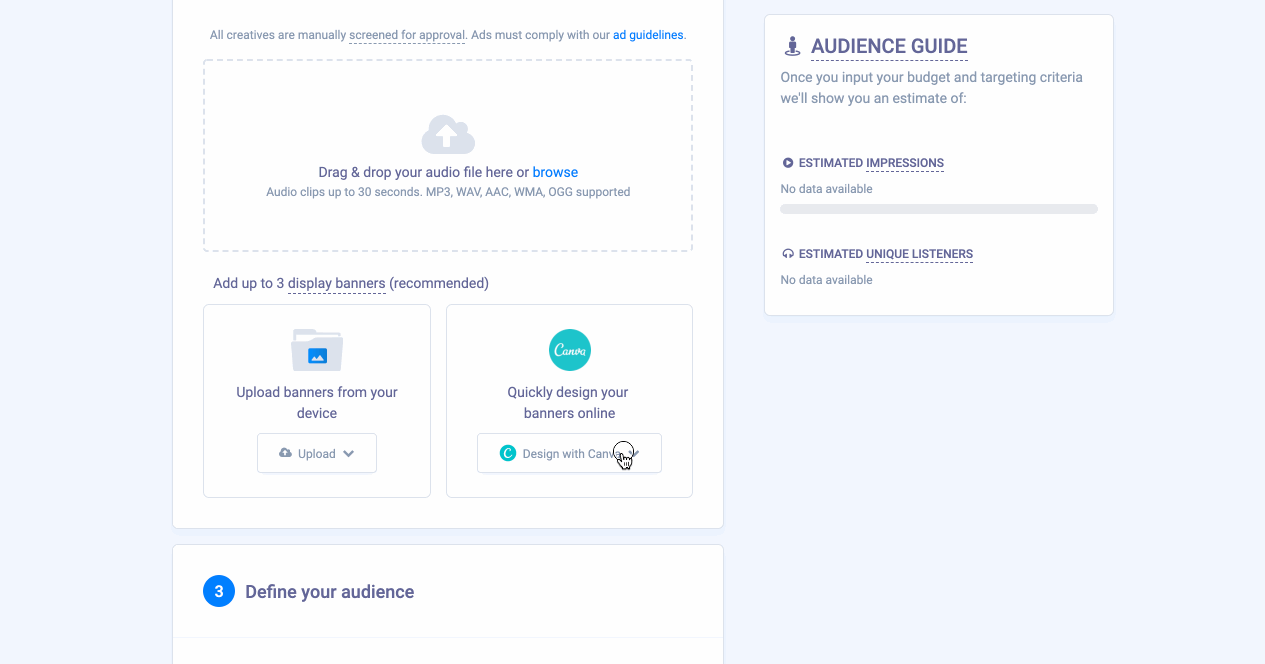 This is all made possible through our latest integration with Canva - and with the push of a button, you get to enjoy the benefits of their online graphic design tool without ever having to leave the AudioGO platform. Then once you're done, those banners are saved directly back to your campaign where it will be ready to be published and aired to your audience. Simple as that!
How to Create a Custom Banner
Click the "Design with Canva" button and select your desired banner size. You can create up to three different sizes and we definitely recommend going for all three. You'll just have to create them one at a time.
Login or create a free account with Canva to start designing. If you have previously logged into Canva, you're ready to create your banner.
It's time to get creative: start from a blank canvas or pick one of the available templates to create your banner. When you're done, just hit 'Save Banner' at the top-right of your screen.
Once you've completed these 3 simple steps above, your banners will pop right back into AudioGO's UI ready to be scheduled with your campaign. Of course you can also preview how your ad will look and sound by giving our nifty preview feature a go.
Need to make changes or small edits? For that, just click the "Edit in Canva" link from the menu by your newly created banner to bring back the Canva editor and make any necessary changes. Note that your banners are automatically saved so you can always revert back to the latest version if needed.
Trouble with Safari?
Due to some recent security restrictions on Safari, some users may need to tick a small switch in their Safari settings to ensure that the Canva login works as expected. For help troubleshooting, please don't hesitate to reach out.
For more information about display advertising on AudioGO, make sure to check out this post.