Product
Related articles:
You've asked, we listened. We're excited to share that we've added a few new display ad formats you can upload to your audio campaign, providing more chances for your listener to "click on your ad."
How are audio ads clickable?
With AudioGO, every time you create a campaign and upload your audio ad, you have the option to add something we call a companion banner . These banners will be displayed while your audio ad is playing in the listener's app or web page. With our latest release you can actually upload your banners in several sizes to maximize the chances that your banner will get selected, regardless of the user's environment.
Which are the supported banner ad sizes?
With our latest release we've added support for a number of display banner sizes. To get the most possible impressions, it helps to prepare and upload the following formats:
Recommended banner formats:
Rectangle banner (min 300 x 250 pixels)
Square banner (min 500 x 500 pixels)
Vertical banner (min 300 x 600 pixels)
On the file types front, we support JPEG, PNG and GIF. Please note that animated GIF's are currently not supported.
How will my display ads look like on the various mobile apps?
While your audio ad is playing, this is how your companion banners might look on the various mobile apps your listeners are using. Please remember that this is only an indication, as the listening experience may vary from mobile to desktop or other environments, so make sure to upload as many ad formats (sizes) as possible to ensure maximum CTR. Should you want to preview the ad you're creating, don't forget to give our ad preview feature a go.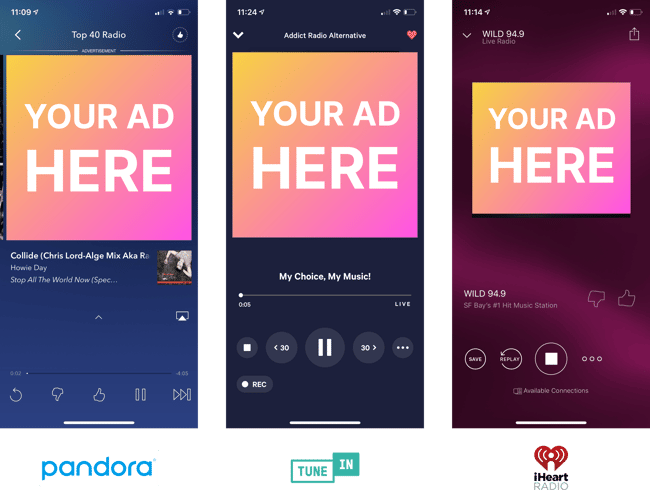 How important is the CTR of an audio ad?
While it's definitely a measure of engagement, click-through-rate (CTR) should not be regarded as a definitive KPI of an audio campaign's success. While all clicks are recorded and presented to you transparently on your dashboard, keep in mind that in audio, impressions are what really matter.
According to a 2017 Nielsen Media Lab Study, audio ads increase ad recall by up to 24 percent over display banners. It's also much more likely that your ad will have an impact on overall brand perception, and provides incredible uplift especially when used properly across multiple channels. While clicks offer you a direct measure of users who engaged right away, due to the multitasking nature of audio listeners (who may be working, driving, cooking, etc) many will convert later through another channel, in which case the conversion should be partly attributed to awareness campaigns you're running (including audio).
With this great news, it's never been a better time to join the audio revolution. Start by creating a free AudioGO account today!