Product
Related articles:
It's true. We all want to be on TV. Or heard on the Radio. Or, seen on the Internet. And the good news is that you can now. Because with audio ads, it's actually easier than ever to get yourself heard on internet radio, podcasts, or top music streaming apps.
"Will I hear my own ad on Pandora?" I hear you asking.
Well, depending on your target audience and a few other factors, you could fall into the exact cohort you're targeting - or not. But to be perfectly honest, the odds of you hearing your own ad are pretty slim - unfortunately.
So to help give you a taste of what your ad looks and sounds like, we recently added Ad Preview to our platform. Our newest feature that lets you experience your ad like any listener would, right from your desktop, while crafting your campaign. Allowing you the chance to also improve and adjust your campaign to your liking BEFORE it hits your listeners' ears.
How Does Ad Preview Work?
After uploading your audio ad, simply click the "ad preview" link to load a simulation of your ad in a mobile-like experience. We always recommend adding display ads to your ad campaign too. So make sure to upload the recommended formats , and these will be included in the preview as well.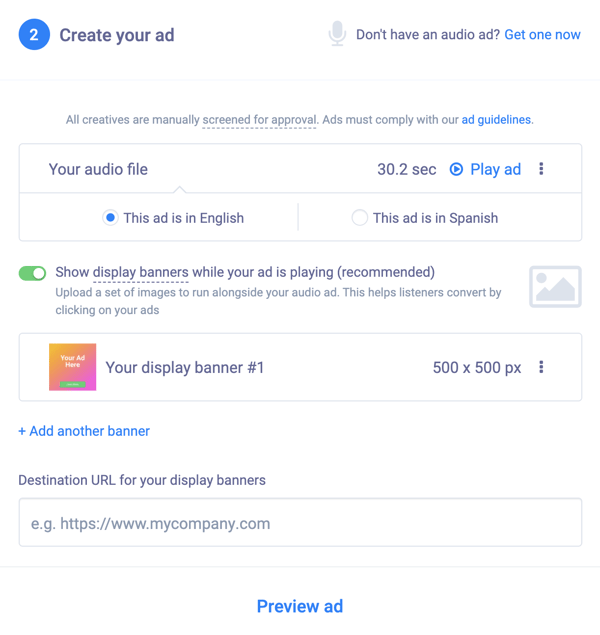 How Does Ad Preview Look Like?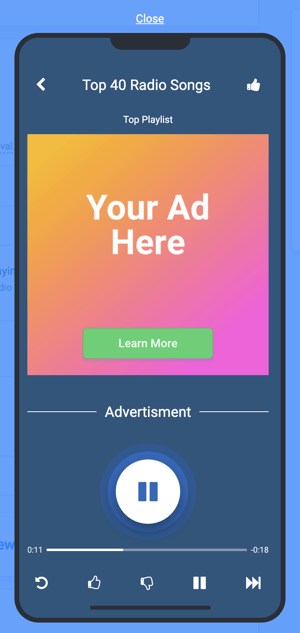 Once your ad is ready, clicking the "Preview Ad" button will open a window which simulates a mobile music player which shows and plays your ad as it would be served to mobile listeners.
Feel free to go back to your campaign and make adjustments as needed until you get the ad exactly right.
We're faithful that this handy feature will help you create your ads more confidently and ultimately get the most from your ongoing campaigns.
Can I Share the Ad Preview?
The Ad Preview Experience can be shared with collaborators outside the AudioGO platform by copying and distributing a public preview link that can be accessed in-app. Head over to our support section for more information on sharing the ad preview with colleagues or customers that do not have access to your AudioGO account.