The Latest
Preview Your Audio Ad Experience
July 29, 2020 - Written by Cristi Gheorghe
It's true. We all want to be on TV. Or Radio. Or... The Internet. With audio ads it's actually easier than ever to make yourself heard on internet radio, podcasts, or top music streaming apps.
"Will I hear my own ad on Pandora?" I hear you asking.
Well, depending on your target audience and a few other various factors you could be part of the cohort you're targeting, or not. If you're lucky - and you're part of your own target - you might hear your ad while streaming one of our partner stations. Simply put - odds are slim of you hearing your own ad.
And of course we don't want the odds to play a role in your experience with AudioGO, so we've just introduced Ad Preview. With Ad Preview you can see and hear your audio ad in a listener like experience, right from your desktop, while crafting your campaign. And we think this is even better, as you get the chance to improve and adjust the campaign to your liking BEFORE it hits your listeners.
How Does Ad Preview Work?
Simply put, after you upload your audio ad, you just need to click a button and our ad preview simulation will load your ad in a mobile-like experience while inserting your newly uploaded ad into a demo music stream. And remember that we always recommend adding display ads to your ad campaign. So make sure to upload the recommended formats , and these will be included in the preview too.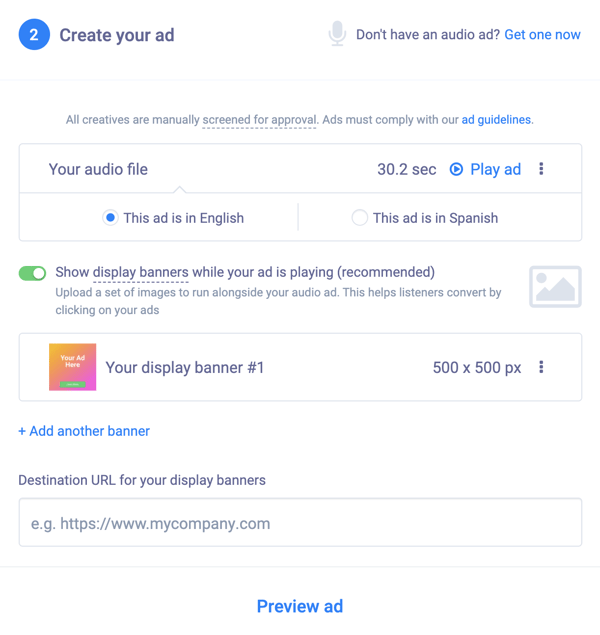 How Does Ad Preview Look Like?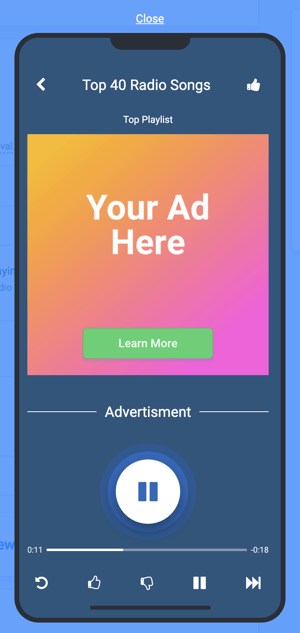 Once your ad is ready, clicking "Preview Ad" button will open a window which simulates a mobile music player which shows and plays your ad as it would be served to mobile listeners.
Feel free to go back to your campaign and make adjustments as needed until you get the ad exactly right.
We're faithful that this handy feature will help you create your ads more confidently and ultimately get the most from your ongoing campaigns