Insights
Partnerships
Related articles:
There's really no place like home for your audio ads these days, thanks in large part to the popularity of smart speakers. In fact, 35% of people in the U.S. already owns one, and more than half of those said in a recent Adobe survey that listening to a smart speaker ad drove them to make a purchase.
Which is one of many reasons why we're excited to introduce you to the latest addition to the AudioGO platform - Sonos Radio! The fastest growing, ad supported music streaming service on Sonos, one of the largest and top-rated smart speaker makers in the world!
Sonos Products
A sound experience company founded in 2002, Sonos empowers listeners to enjoy what they want, wherever they want, and how they want it by combining outstanding sound, premium design, and an easy-to-use suite of products.
Each Sonos device features best-in-class acoustics and state-of-the-art software, and is thoughtfully designed from the inside out. Users can start with a single room and simply add more rooms and devices as needed, with everything working seamlessly together over WiFi. Their product line includes sets for stereo pairing, soundbars and smart speakers, all of which have come to dominate the premium home listening market.
It's also worth noting that 88% of professional installers prefer Sonos over other audio brands, which is significant given that wealthy households prefer to have their sound systems custom made.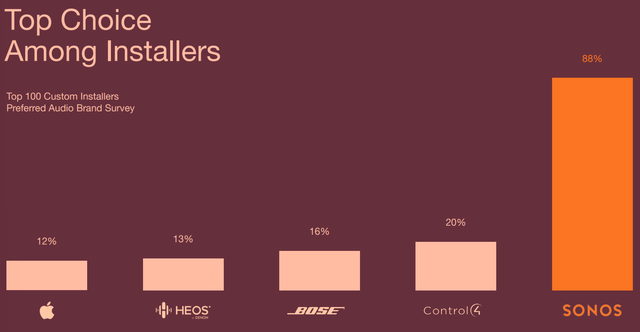 Sonos Radio
Launched in 2020, Sonos Radio is their free, in-house streaming app and, again, the fastest growing service on Sonos. A great way to explore and enjoy all kinds of news, music, live sports and more, both their Local Radio service and their thousands of owned and operated stations provide ad supported access to highly engaged audiences of mostly affluent, well-educated, and metro-based profiles.
Another thing about Sonos Radio listeners is that they very clearly value quality. And they aren't afraid to pay more for better experiences. Making these nearly three million users ideal targets for realtors, contractors, financial planners and the sort; as well as any family, child, or luxury brands, to name a few more.
Let's not forget that a lot of these listeners are audio junkies too. So you can trust your advertising will almost never land on deaf ears.

When screens are off, music is on. All around the house.
From the minute we wake up to the moment we fall asleep, most of our everyday actions and routines are usually done to the sounds of music. And for the average Sonos Radio listener, that amounts to over 10 hours a week of doing things like relaxing, cooking, or cleaning around the house.
Throw in a record number of people still working from home since the pandemic began, and you can see why smart speakers have become an effective ad channel for making your brand or business a regular fixture in your customers' domestic lives.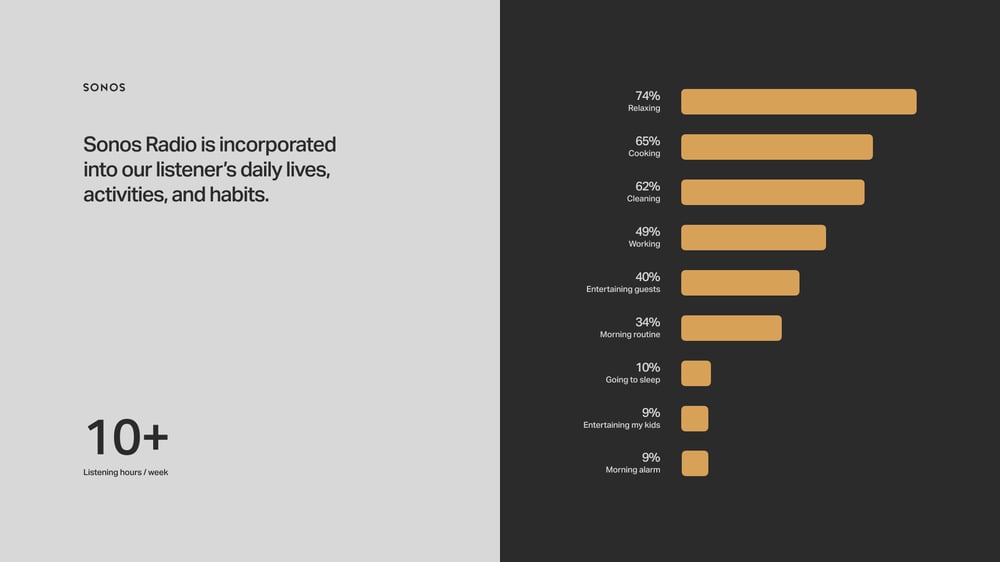 Reaching smart speaker listeners with AudioGO
With three options to pick from, our device targeting feature lets you selectively engage people on either their mobile phones and tablets, PCs and laptops, or, as is the case with Sonos Radio listeners, their smart speakers.
You'll see these choices appear as you start to define your audience in our campaign set up page in the link below. We recommend it for adding more context and personalization to your ad experiences, especially if you intend to target people on the go, while they work, or as they stream at home.
And if it's a premium home audience of younger families, or well-to-do city folk, or hardcore audiophiles that you're trying to reach, you can't go wrong with the smart speaker option, thanks to our friends at Sonos Radio!