Case Studies
Related articles:
Now that the country is cautiously and increasingly opening for business, we know a lot of you are doing everything you can to get more customers and clients back in through the door again.
Whether you're the restaurant trying to get more diners, or the realtor trying to get more buyers for your open house. Or maybe you're the recruiter trying to line up more interviews, or the promoter trying to line up more fans for your next event. But whatever the case may be, Digital Audio is a proven medium in getting the word out and bringing people in. So for this blog post, we'd like to share a little case study of a big success story of us doing exactly that.
It's the story of an agency and a group of schools trying to enroll more students. It's actually a story we hear about quite often on AudioGO. They typically start off with a business (or an organization) and their agency reps coming to us for help with their digital marketing - and they usually end no differently than this one.
The Client
Four Paul Mitchell Schools - a renowned cosmetology program with 118 campus locations in 35 States, and legacy of the celebrity hairdresser - wanted to try out a new look to attract more students from the Salt Lake City area.
For the longest time, these Paul Mitchell Schools had styled their outreach strategy off a basic mix of Instagram and Facebook posts. But seeing how streaming media has become so fashionable with younger audiences, they decided to enlist the help of the agency Elytics for a digital makeover of a popular student recruitment campaign to include audio advertising.
The Goal
To drive awareness, visits, and enrollment to 'The Schools' as part of their 'One Million Dollar Scholarship Give-a-way.'
The Solution
Using the AudioGO platform, the Paul Mitchell Schools were able to:
Create 30-second digital ad spots and plan their run times over the course of a 30-day schedule.
Host multiple display banners to a special campaign landing page for real-time click tracking.
Choose their target audience demographically, college-aged women ages 18 to 24; and choose their target audience geographically, the Salt Lake City Designated Market Area (DMA).
Place a budget of $6,000 on their credit card.
And, complete all of the aforementioned steps in under 5 minutes. Save for the ad creation part, of course - that took under 24 hours.
The Results
Over 250,000 ad plays to their target market of college-aged female listeners in the Salt Lake City area, driving awareness among their highest potential prospects.
958 more engagements on their campaign Facebook page, 1,239 clicks and 515 additional likes.
'The Schools' were also able to track 3 students from campus visits that enrolled as a direct result of their AudioGO campaign; and with tuition priced at $17,500/per head, that comes out to a return of 775%!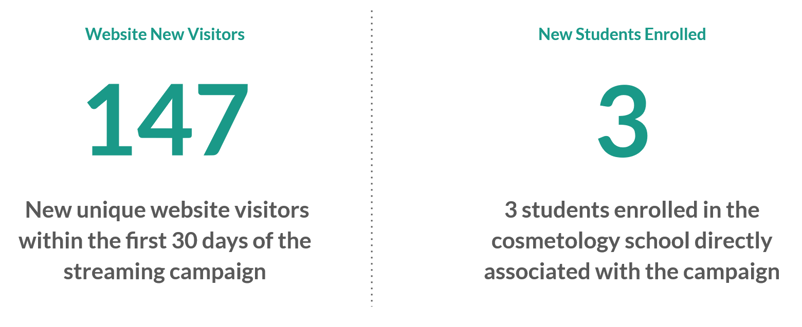 The Takeaway
Digital Audio is affordable and impactful. And with no studio and no salesperson required to use AudioGO, we've managed to turn it into something that's also simple and accessible for anyone to use.
Digital Audio can be a great awareness channel, and a strong complement to your existing marketing channels as well. Like we saw with 'The Schools,' it's perfectly normal for a good audio campaign to generate more social media activity, more website visitors, more sign-ups, and more often than not, more foot traffic to your location.
Digital Audio could be great differentiator for any digital agency too. And if your clients are looking to be wowed, just as much as they are looking for results and value - we can certainly help with that. But don't take our word for it. Just ask those Paul Mitchell Schools...or their agency, Elytics...and the thousands of other schools, agencies, and advertisers who are finding success everyday with AudioGO.