Product
Insights
Podcast
Related articles:
To help better improve our ad listening experiences, we'll be adopting a new standard that's being widely accepted all across the podcast industry: advertisements without background tracks. That means, starting today, you'll find two places in our Campaign Setup Page to upload your audio ads to: one for music streams and the other for podcast streams.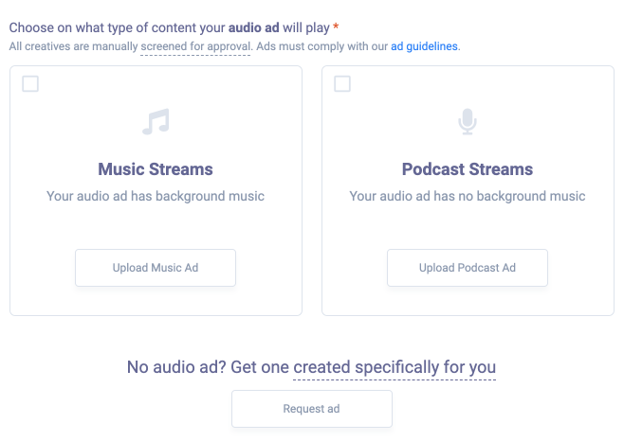 Why separate ads into music-friendly and podcast-friendly streams?
Again, this move has everything to do with the listening experience. Podcasts are voice-heavy so it's preferable that any podcast ad be so too. Whereas music listening naturally lends itself to advertising with musical background tracks.
Put another way; the more seamless the listening experience, the better it is for the user. And the better the user experience, the more effective your audio advertising will be. That's essentially why we're doing this.
What is a music-friendly ad?
Any audio ad with a background track is now considered music-friendly. They'll run on music and radio apps like Pandora, iHeartRadio, and SoundCloud based on your targeting selections in interest, status, and/or music genre.
But it's not to say all background tracks are created equal. Like we mention in this post about creating the best audio ad, you're still going to want to make sure your background music is consistent with the genres and the audiences you're targeting. Don't kill the vibe.
What is a podcast-friendly ad?
Any ad without a background track is deemed podcast-friendly. Those will run on the AudioGO Podcast Network - over 7,500 top shows from 10+ different publishers - based on your choice of talk and podcast genres.
Can you run both podcast AND music ads in the same campaign?
Yes, you sure can! You can target listeners of both podcast and music genres in the same campaign. Just make sure you have a podcast-friendly AND a music-friendly ad uploaded accordingly.
Can you run podcast or music ONLY ads?

Yes, no problem! Just make sure they're uploaded to the appropriate stream. But it's totally ok to run one or the other.
How do you request a podcast-friendly and/or a music-friendly ad?
Same as always, by clicking the 'Request Ad' link in the Campaign Setup Page. The only difference this time around is that you'll have to check the following box in the subsequent form if you intend on running podcast ads as part of your campaign.
Once you check that box and submit the form, in less than 24 hours you'll receive two versions of your ad: one with your requested background track (for music streams) and another without it (for podcast streams). You'll be able to preview both as usual.
But if you don't check that box, you'll only receive a music ad. And if you just want a podcast ad, you'll have the option to remove the music ad from your campaign once both are delivered.
How do revisions work?
Any revisions to either of your music or podcast ads will be applied to BOTH versions. Again, we're simply providing you with two versions of the same ad. So any change to one will affect the other.
What happens if the ad you uploaded to the podcast stream has background music?
You may run the risk of getting your ad blocked by certain publishers if that's the case. So be sure to triple-check your ads if necessary to guarantee no disruptions in their delivery.
Need more info?
Feel free to write us or reach out directly via our in-app chat tool if you have any questions, we're always happy to help!