Product
Related articles:
Targeting the location of listeners is an essential tool for reaching the right people who are interested in the product or service you provide.
This is why we've been hard at work improving our location targeting to include two major upgrades. (Both of which are based on feedback we directly received from many of you, by the way - and we want to encourage you to please keep them coming, it's always great hearing from our customers!)
Streamlined Location Search.

No more clicking around. Now, just type in the location of where you want to run your ad - and various, corresponding options will pre-populate for you in a simplified and easier-to-use interface.

City-Level Targeting. You also now have the ability to select your desired city as a targeting area. Allowing you to target at a more granular level, and one level deeper than the county-level targeting we offer.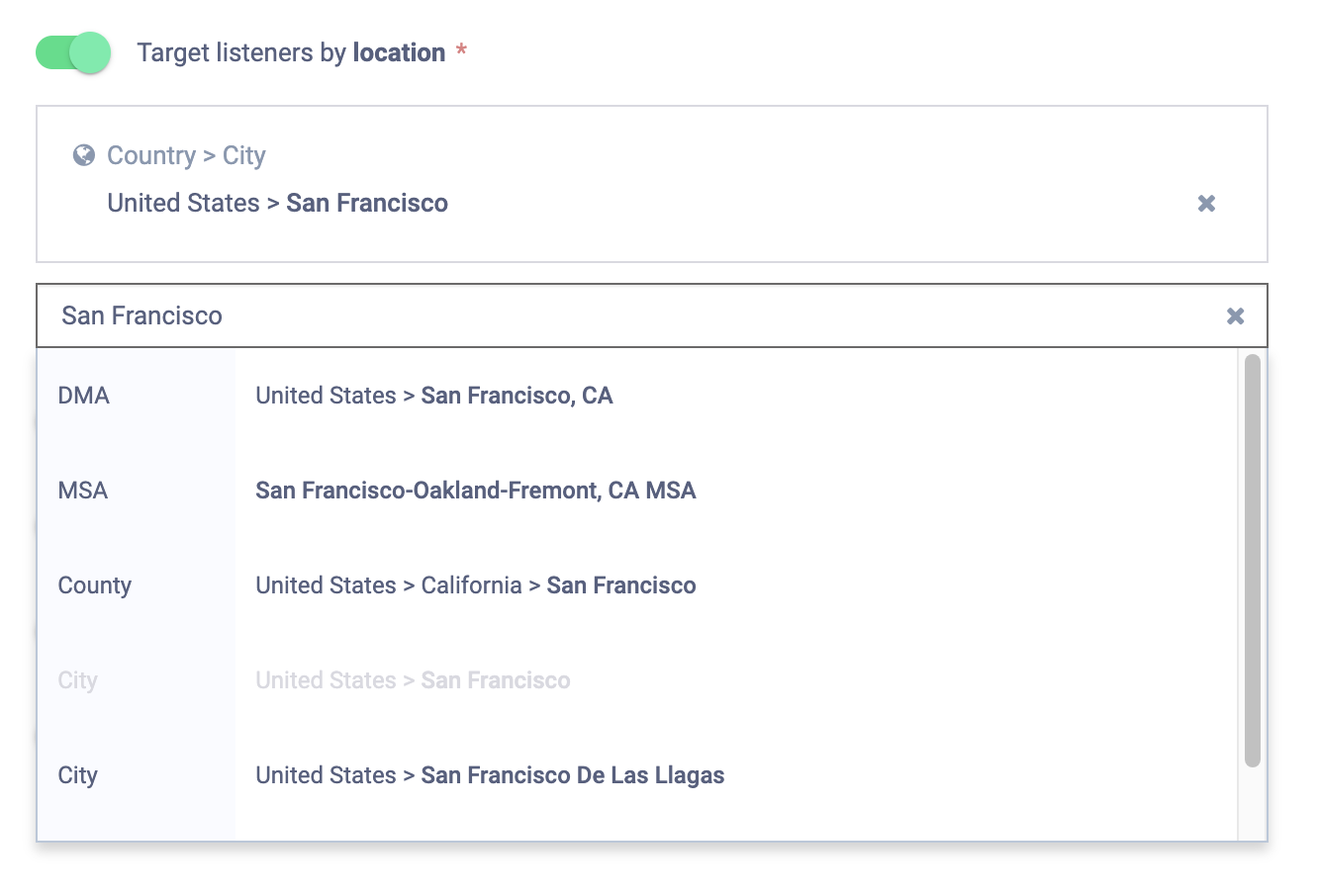 We fully understand different campaigns have different targeting requirements too. And with AudioGO, you'll still get to choose among the following levels and location types for all your different needs:
States: You can target one or more of the 50 states within the US.

Counties: You can target one or more specific counties within the US.

Cities: You can target any city in the US. This is most commonly used by small businesses that provide physical services, like restaurants, auto dealers, retail outlets, real estate services, or those promoting an event.

DMA: You can target one or more of the 210 DMA's in the US. A DMA is what Nielsen Research defines as a 'Designated Market Area,' also known as a media market and often used in TV.

MSA: You can target one or more of the 392 MSA's in the US. An MSA, or 'Metropolitan Statistical Area,' is a geographical area defined by the federal government that represents a city and its surrounding suburbs.
Zipcode targeting will be added to this list any day now, so please make sure to stay tuned for that. But in the meantime, we hope these updates make things easier, and better, for your business or organization to get their message heard.