Product
Related articles:
Data sits at the core of optimization: improving a landing page's click-through-rate (CTR), increasing your ads' return-on-investment (ROI), or simply running your business needs data points. We understand and praise this, and we strive to have data at our fingertips ourselves. That is why we've been working tirelessly to enhance our campaign dashboards with more representative charts to showcase performance, and to offer you invaluable insights to continue to run ads and optimize your campaigns.
In this article, we'll cover the new functionalities added to our campaign dashboard:
A new, dedicated view to showcase real-time campaign progress, including essential KPI's like overall impression, number of listeners reached, ad listen-through-rate and campaign CTR
3 very useful performance metrics to show you campaign performance on a daily basis: daily impressions, daily unique listeners reached and daily number of clicks
The distribution of impressions and listeners by music genre
A quick and convenient way to export your dashboard as a PDF, so you can share with your coworkers or clients
KPI's for Real-Time Progress
At the top of the new dashboard, you will find an overall campaign progress view. This is to showcase overall metrics such as spend, total impressions and listeners, along with ad effectiveness indicators, like LTR and CTR.

These metrics are collected in real-time, as they are taken into account on campaign delivery and billing, whereas charts are updated in 8-hour intervals. This is why, while running campaigns, you might observe slight differences in the numbers reported by the real-time reports and the aggregated charts. These differences will level out once the campaign is completed.
Performance Metrics: Impressions, Listeners, Clicks
How is your campaign performing on a daily basis? How many times has your ad been played? To how many listeners? You now have answers to all these questions via the daily breakdown charts. To select a new metric for display, simply select it from the tabs at the top of the charts.

The daily breakdown charts showcase data from the start of the campaign through the current date, or throughout the entire flight dates of the campaign if the campaign is completed. Currently, this breakdown is available per day and is limited to 90 days. If the campaign has not started running yet, has not delivered any impressions, or you find yourself within the first 8 hours of data being aggregated, you might encounter a "No Data" message. Simply check back at a later time.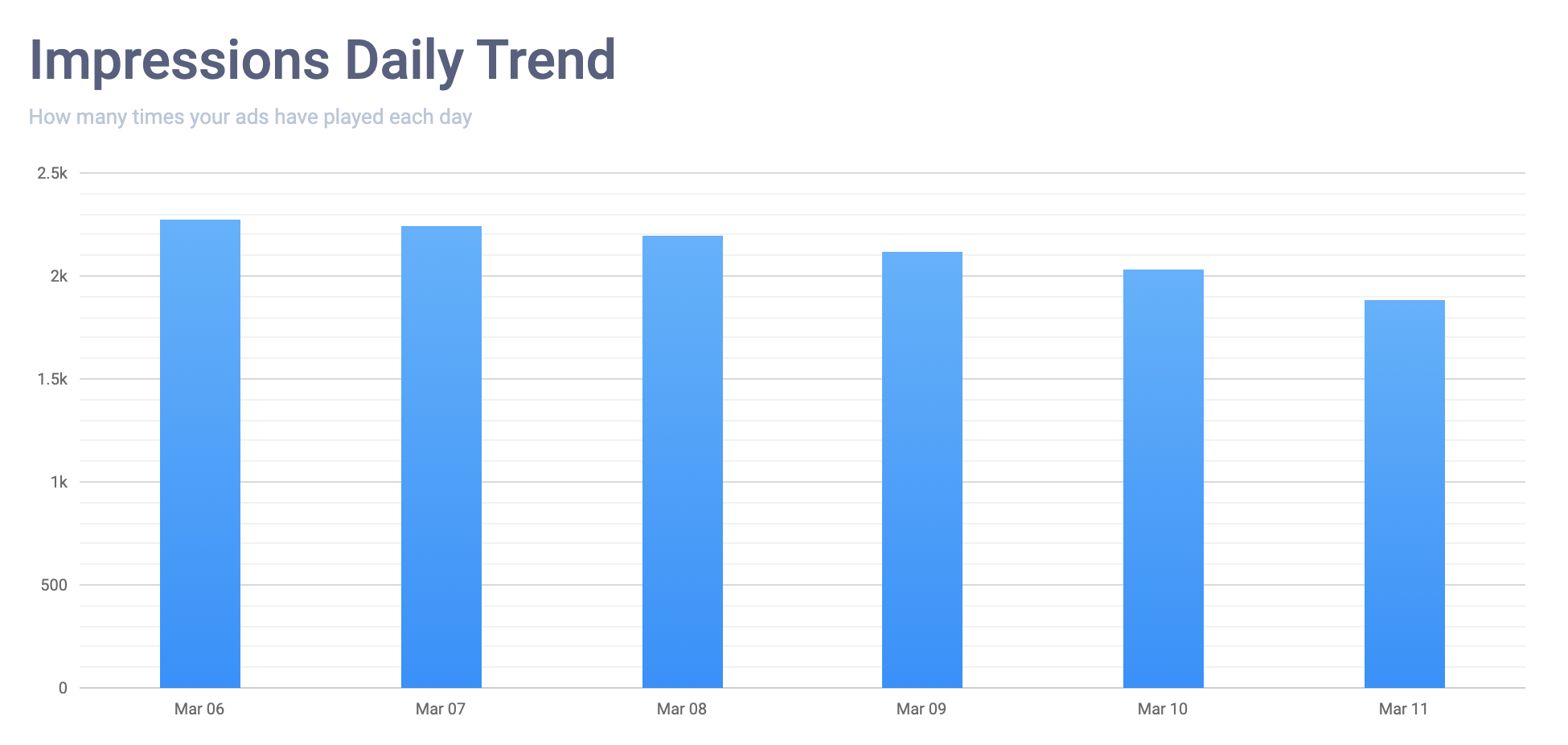 If at some point you encounter a sudden drop in impressions, you may want to check your payment information.
Top Music Genres
How are your impressions and listeners distributed by the type of music (or spoken content) they are listening to? This can give you insightful information about who you're targeting and if the audience you're reaching is the right one for your brand or message.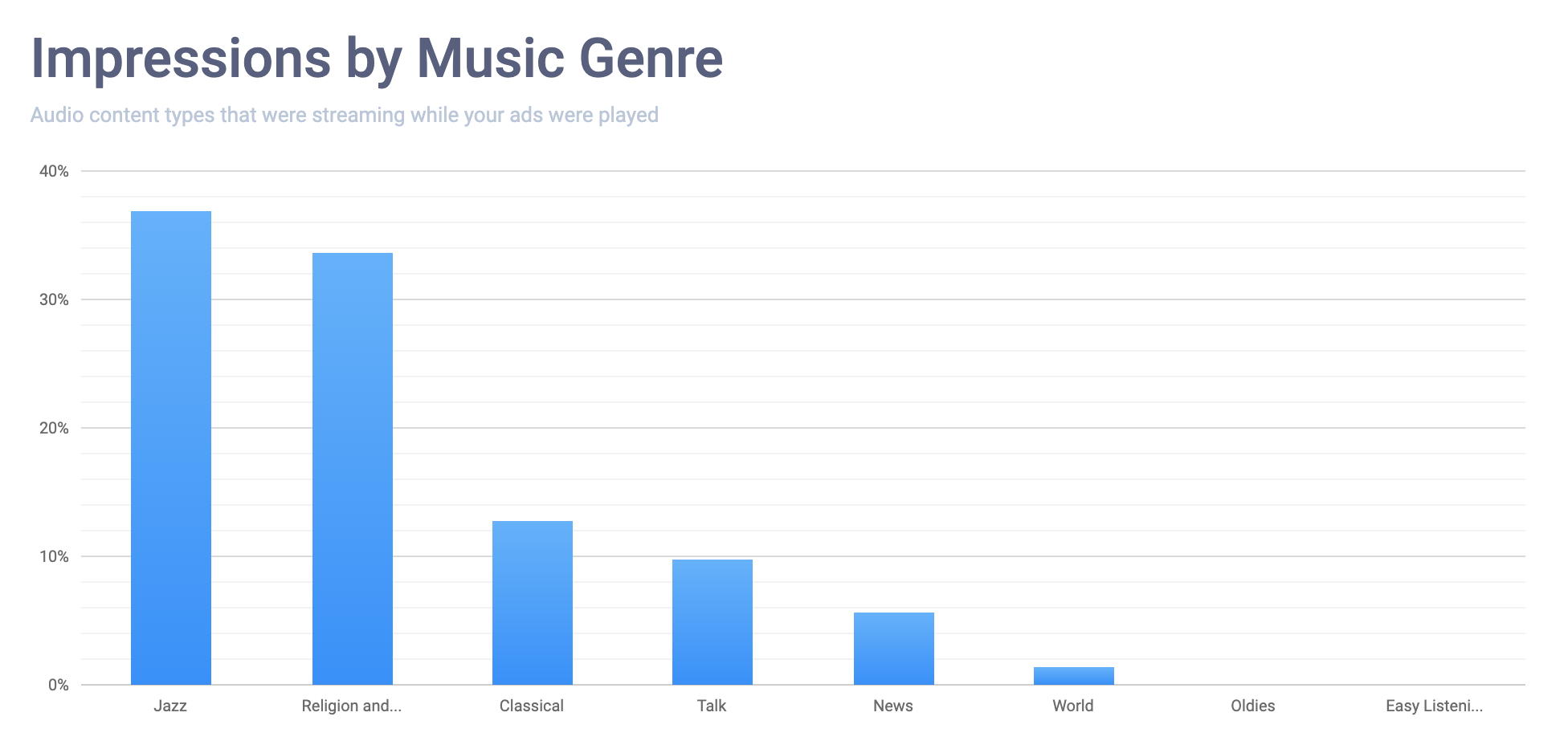 Dashboard Export
To provide these insights to colleagues or customers we've implemented a handy export feature. Simply hit the "Export Report" link at the top right of the page and a PDF file with the reports will be downloaded. Please be aware that the exports include the metric in the current view, so if you need subsequent metrics exported you will have to perform the operation again with the corresponding metric selected.
We're confident that this new set of features will help you get a better return from your campaigns by enabling more insightful analysis into your audience and campaign delivery. Stay tuned for much more!