Product
Podcast
Getting Started
Related articles:
In just a handful of years, US podcast networks have seen their listenership boom to become one of the largest mass media audiences in all of entertainment, standing in at 120 million strong (Edison). That's the good news.
The even better news is that most of these networks are available for advertising through AudioGO. Including the one name that has kept the top spot on Triton's Podcast Ranker for audience reach this whole entire time - the SiriusXM Podcast Network!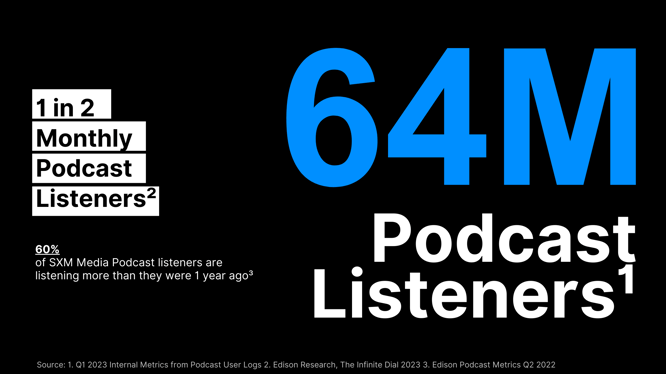 Home to Stitcher, Crime Junkie, NBC Universal, and more, the SiriusXM Podcast Network is where you can find some of today's most popular podcast programming around. And for the very first time, small businesses will be able to use AudioGO to tap into their award-winning inventory in a few simple steps, and starting at just $250.
Unlocking a wealth of podcast content
With the addition of SiriusXM's podcasts to AudioGO's ad buying platform, marketers will be able to gain immediate access to shows and publishers, like:
Stitcher Media, maker of comedy favorites The Last Podcast on the Left and Comedy Bang Bang!

There's podcasts from Team Coco, the production company behind Conan O'Brien Needs a Friend.
Then there's stalwarts like NBC Dateline, a fan favorite that consistently ranks in the top 5 and 10 for the most popular podcast.
Freakonomics Radio is another perfect content s

howcase for products or services that track well against the news, politics, and business crowd.

Who also doesn't love the Office Ladies, winner of iHeart's 'Podcast of the Year' award, the only category selected by fans.

Of course we also have to talk about Crime Junkie, the #2 podcast last year to Joe Rogan in terms of listeners, attracting a loyal following of 22 million a month.
Along with much, much, much more!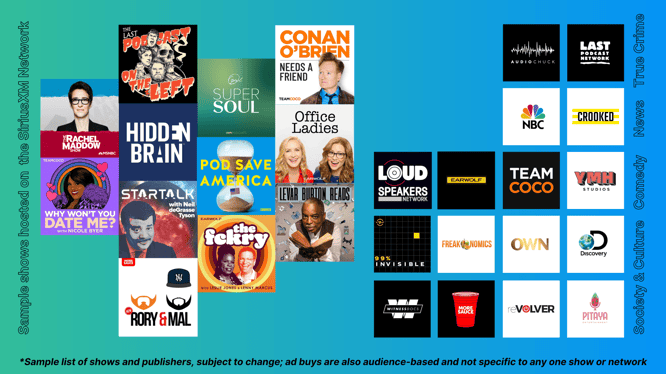 The audience buying advantage, the programmatic difference
Other than how expensive they can be, one of the bigger drawbacks to host-read podcast ads is that your message will only go as far as that show's audience. When there are thousands of podcasts with millions of listeners who may also fit your customer profile.
And the only format that can offer your business the scale and targeting to reach them: is through programmatic audience buys on platforms like AudioGO.
So while you can't necessarily choose the exact show or publishers to where your ad will play with us, it will always find its way to whoever you picked as the listener - be it by their demographic, location, what genre of content they're listening to, or as is the case with Predictive Audiences, their personas, interests, and media activities.
Which is all to say that our platform knows how to serve your ads to the right people, in the right context, and across the right shows. Throw in the SiriusXM Podcast Network on top of it, and we're giving your advertising even more of those right people to reach.
Streamlined self-serve ad buying in 3 simple steps

If launching podcast ad campaigns on AudioGO wasn't already simple enough, we recently made a few tweaks to further streamline the process.
Step 1. To begin, you'll need to select 'Podcast' as part of the first step in creating your ad campaign. This unlocks a set of podcast-specific features for the next two steps: building your ad creative and selecting your target audience.

Step 2. Proceed to upload or create your podcast audio and display creatives as usual.
Step 3. After you've done that, you'll then be able to define your target audience by their demographics, location, device, genre topic, in addition to a couple of brand new options, ad position and Predictive Audiences segments.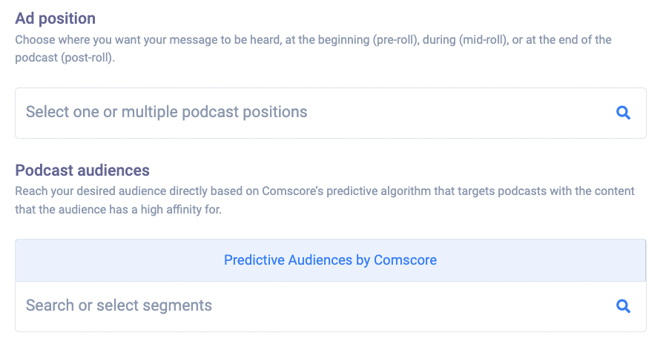 But wait, there's more!
With this latest addition of SiriusXM's podcast inventory to AudioGO, they'll be joining an already deep roster of big name publishers our users can advertise with - like Barstool Sports, the Washington Post, and the Food Network to name a few.
This partnership also marks a significant step forward for the podcast advertising landscape in general. Because let's face it, podcast advertising is a pain. Making an ad is a challenge. Having to shop around from network to network to get those ads placed is frankly a waste of time too. Especially for busy SMBs.
But AudioGO is proof that it also doesn't have to be this difficult. By offering an in-app creative studio, enterprise-grade targeting solutions, and access to some of the biggest and best podcasts all in one place, we're confident in our ability to take the suck almost completely out of the ad buying process.
And as the podcast space continues to grow, we're proud to be doing our part to give small businesses a foothold to grow with them - easily, effectively, and affordably. Experience it for yourself in the blue button below.