Case Studies
Related articles:
We love telling this story for a couple of reasons. The most obvious, of course, is that it's about an advertiser who found a lot of success using AudioGO. Though the part that's way more interesting for us is the method in how they did it - multichannel marketing.
Multichannel marketing, in short, is when you combine different promotional channels to convey a single message. It might be a mix of email and Google ads. It could be TV and radio ads. Or a blend of guest blogs and PR.
But whatever the combo may be, the goal always remains the same: to maximize reach and awareness.
Which, as you'll soon find out, is something streaming audio ads and Facebook ads are extremely effective at doing together.
The Client
Boar's Head Resort is an award-winning hotel in Charlottesville, VA that offers 168 elegant rooms and suites, excellent dining, a vast array of recreational activities, a luxury spa, and over 20,000 square feet of meeting facilities on a 600-acre property in the foothills of the Blue Ridge Mountains.
Like all other hotel businesses, though, they too have their down seasons. So to combat this, the resort organizes weekend festivals to help lure away local vacationers into booking stay packages that include a couple nights of accommodations and tickets to some lively event.
The Goal
To promote their 'Bubbles, Brews and BBQ' event to audiences in nearby drive markets as a way to boost off-peak room sales.
The Solution
Using the AudioGO platform, Boar's Head was able to:
Create a 30-second digital ad spot (click here) in under 24 hours.


Target male listeners ages 25 to 65+ in cities, counties, and zipcodes within driving distance of the resort.

They supplemented their demographic targeting with popular commuting genres, like country music and classic rock, along with podcast genres, like sports and news.

While simultaneously running a Facebook/Instagram campaign to a lookalike audience in parallel.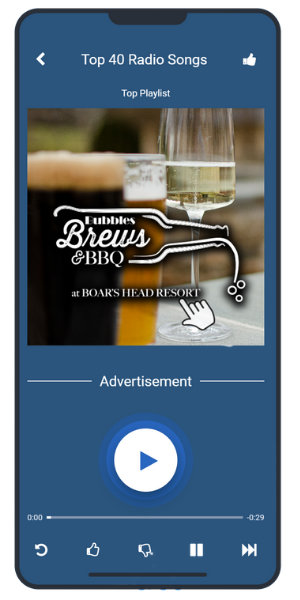 The Results
Here's how Joe Hanning, Marketing & Communications Manager at Boar's Head Resort, describes the impact from the event:
"We did see a nice uptick in room nights for the weekend. We sold about 250 tickets which was a success because it more than covered our costs - and that doesn't even include the additional revenues from the room nights. But it's pretty safe to say that the combination of AudioGO and Facebook accounted for a huge majority of the ticket sales, and I think it really drove a lot of word-of-mouth marketing for us too."
AudioGO 3-Week Flight: 20K reach, 31K impressions, 98% listen-thru-rate

Facebook/Instagram: 55k reach, 89k impressions, and 3,900 link clicks
The Takeaway
Here are two of the bigger reasons why their AudioGO campaign worked so well for Boar's Head:
Streaming audio ads are famously catchy; they can lift awareness by 81%, brand recall up to

26%1, and engagements 2X to 4X across accompanying search and social campaigns.2

Streaming audio ads have captive audiences. Like we saw in Boar's Head's case, 98% of their listeners heard their 30 second ad from start to finish - giving them more context, and more reasons, to attend the event than any display image ever could.
But the biggest reason why Facebook ads, in particular, pairs so well with streaming audio ads: is because they're the #1 (audio) and #2 (social) activities people spend most of their time doing on their phones.3
And by mixing the two mediums together - multichannel-ly, if you will - Joe was able to fully maximize the reach of his mobile marketing. Which, for a target audience on the move, is why he chose to use AudioGO and Facebook to promote his event in the first place. But that's not all:
"One side note about this campaign is that the event was really pulled together just a few weeks out unlike most events that have months of preparation time. With that said, I had to select what I consider 'here and now' mediums, so that's why I chose AudioGO. I could literally get an ad up and running within 24 hours and hit a ton of people with it. I also paired this up with my Facebook and Instagram ads for that same reason – I could get them up fast. Both platforms allowed me to get huge impressions in a short amount of time."
Footnotes
1. Nielsen: Brand Effect Benchmarks US, April 2019
2. Based on AdsWizz internally reported data
3. eMarketer: US Time Spent with Mobile Apps by Activity, January 2021