Product
Related articles:
Great performing campaigns have a well-deserved place in all of our hearts. And starting today, they've also found a spot in AudioGO's dashboard with our 'Duplicate Campaign' feature.
So if you've ever ran a campaign and it worked out well, we've now made it super simple to repeat that campaign, with the same creative and targets, with a single click of a button. And if you need to create a number of similar campaigns at once, this new feature just made doing that a whole lot easier.
How to duplicate a campaign in AudioGO
There are two options available:
1. You can either click on the Duplicate Campaign link in the dropdown menu next to each campaign entry on your dashboard. See image below.

2. Or, you can select the Duplicate Campaign button towards the bottom of your 'Campaign Report' page. See image below.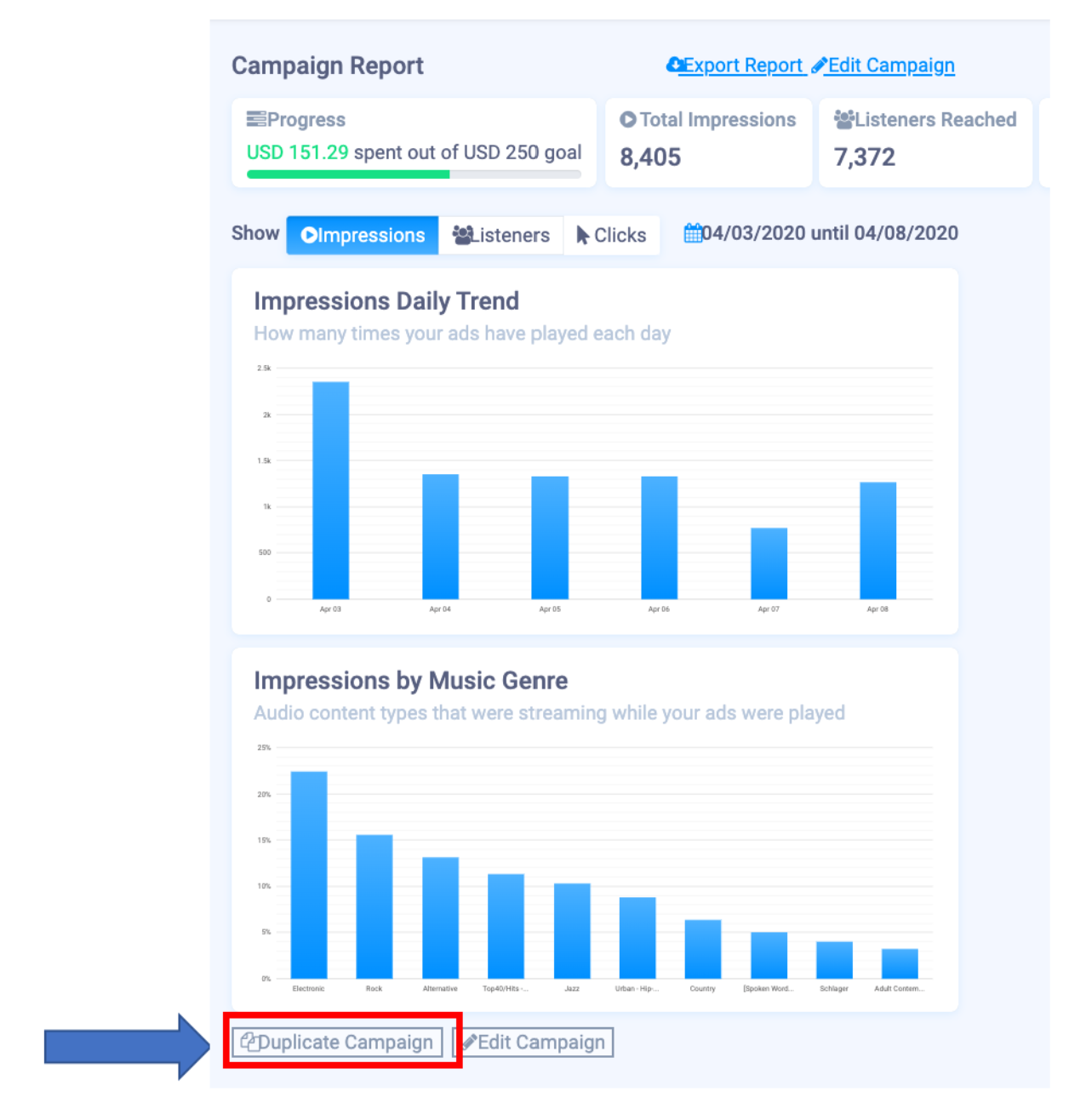 Both methods perform the same function of creating a new campaign with all the details sourced from the original one. That includes budget, targeting parameters, your audio ad, and display banners. We will automatically apply a similar start and end date as well. So be sure to enter new dates, or confirm the automatically updated ones before you hit Schedule Campaign.
There are a number of reasons why you would want to duplicate a campaign:
For example, if you have six campaigns that are scheduled to end soon, and three of them are performing extremely well, you can easily clone them to run again, instead of having to recreate them one-by-one.

You've gotten good feedback and responses from either your website, your store, or your business from your first ad, and want to continue being in market with your messaging.

You have more budget, and you didn't hit your original reach and impression target in your first campaign.

You see a high Listen-Through-Rate, notice your ads are reaching their target audience, and want to continue that momentum.

You want to run the same campaign, but want to adjust your genre, gender, or location targeting to reach a different audience.

You are running 10 of the same campaigns in different geographic locations. In the set up, you can replicate the first campaign, making it easy to merely adjust the location targeting in all the duplicated campaigns.
And as always, you can pause any of your campaigns at any time. So there's no risk in trying it out and seeing what kind of results you get!
That's all it takes to duplicate your campaign, and replicate your success using AudioGO. And like any great performing campaign, we're confident you'll love this feature too.